We research and invent all of our equipments for processing the bioderadable products,including high-speed blender,sheet extrusion machine,vacuum molding machine etc,whose key parts ane introduced overseas.
Our company owns the film blowing machine,printing machine,bag making machine which can apply to processing both plastic film bag and biodegradable film bag.
Twisted screws Granules Production Machine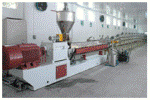 We have several twisted screws granules production machine (Model: 75 ), which introduce the Germany technology and are specially designed and assembled for the completely biodegrad-able granule production. The operation system of them is auto-matically controlled, and they can produce the granules that are used for film blowing, foaming, sheet extrusion, injection and so on.
Blowing Film Machine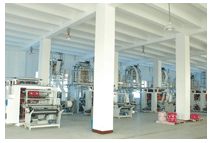 Our company had introduced overseas advanced blowing machines. Comparing with the domestic ones, these machines have improved 30% of extrusion and plasticization rate, and the film they produced has stronger transverse pull force and longitudinal pull force. Mean-while, our film blowing machines introduce the circumvolving model head and frequency conversion multi - speed high - pressure fan to supply stable air current meet the needs of the stable size of produ-cts.
Printing Machine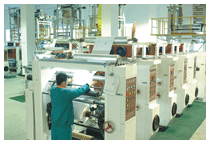 Our company introduce the computerized automatic p-rinting system and automatic tension controlling system. These machines are equipped with frequency conversion & timing system, air driving scraper & printing and facility of automatic cutting.They are well designed,precisely assembled, and they have characters of high precision of printing and fast running speed.
Bag Making Machine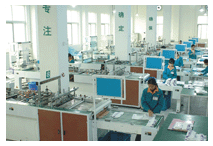 The bag making machines introduce PLC controlling system, and the main transmission introduce the com-puterized high- precision frequency conversion timing driving system, as well as the photo- electricity pointing & rectifying deviation device. The tension of film and heated - seal temperature is controlled automatically. These bag making machines are highly automatically controlled, and easy to operate. The production speed is high.
Sheet Extruding Machine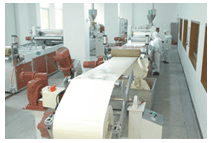 Nowadays, our company has several production lines of two screws sheet extrusion machine ( Model 95/75 ). All of the key parts are imported ones. Using the OMRON operating system, it has realized the entire automation production, it has chara-cteristics of high efficiency and quality reliability of the products. The maximum of the width of sheet reaches to 1300mm, the thickness reaches to 22mm, and the precision reaches to 0.02mm.
Negative vacuum molding Machine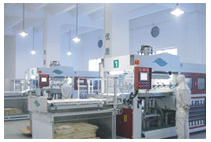 We has Introduced the most advanced automatic negative vacuum-molding machine domestically.It has the character of high precision in molding. The maximum of molding length is 1200mm, the maximum molding width reaches to
680mm, and the maximum depth is 60mm.
Positive Vacuum Molding Machine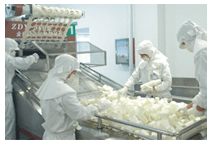 It is specially assembled for completely biodegradable sheet molding, whose rate of finished products is high. It applies to process the sheet whose width is between 300mm~660 mm with its thickness between 0.3 mm~ 2.5 mm, and especially do well in processing the packing products with the cup-shaped.